Will Your Remodel Pay Off? The Best (and Worst) Ways to Spend Your Budget July 30, 2019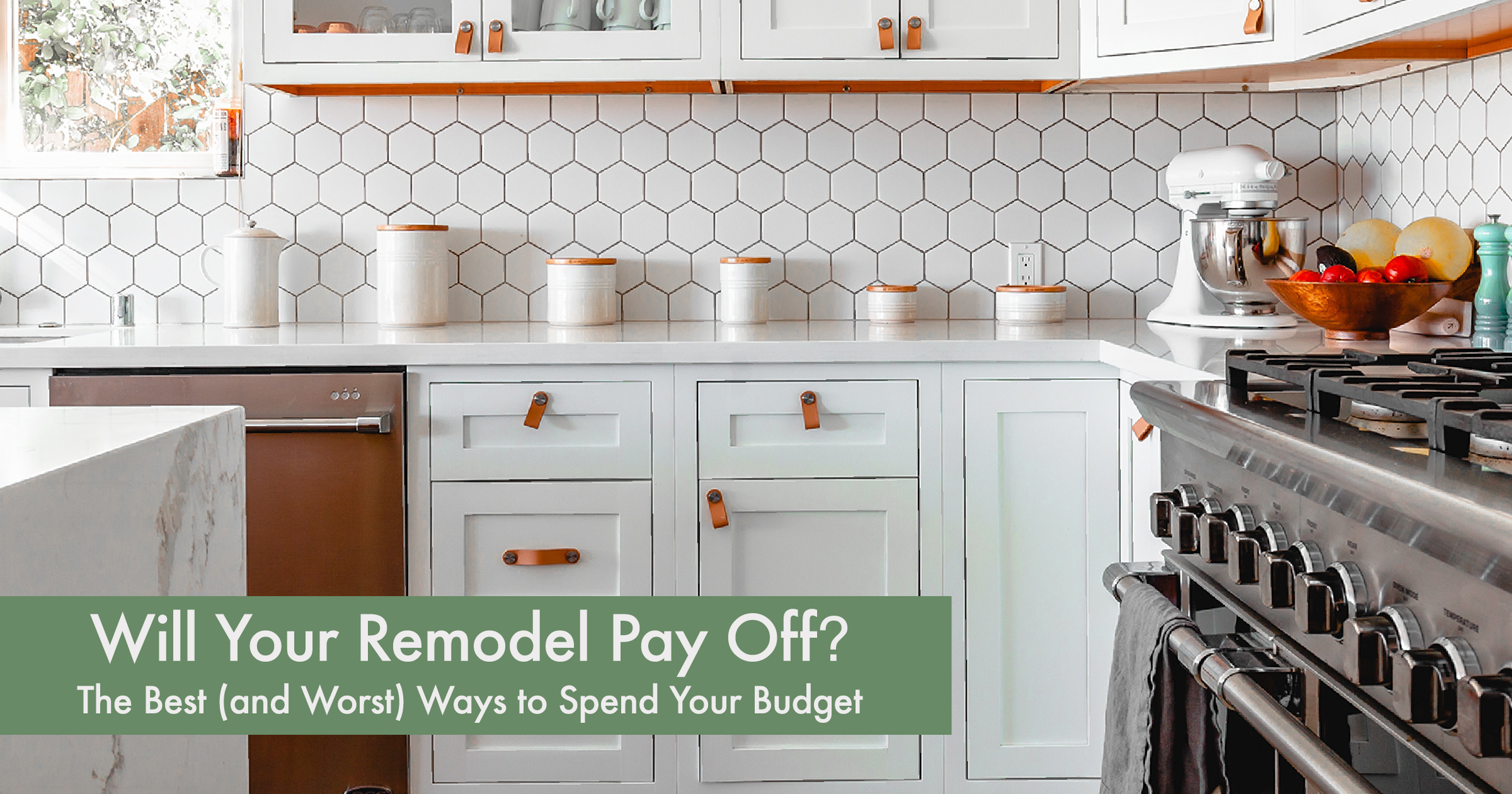 Most new homeowners have something about their property that they want to change. And as family needs and design trends shift over time, many will eventually choose to remodel. Some homeowners make updates to their property before listing it to maximize their potential sales revenue.
Whatever your reasons are for taking on a home improvement project, it's wise to consider how the money you invest will impact your home's value.
We've taken a look at six popular home renovations and identified those that—on average—have the best and worst returns on investment. So before you lift a hammer or hire a contractor, take a look at this list and see if your remodeling efforts will reward you when it comes time to sell.
RENOVATIONS THAT PAY OFF
These three common home improvement projects not only add function and style to your home, but they also offer a strong return on investment. Making strategic upgrades to your property will help you increase its value over time.
The kitchen is often referred to as the "heart of the home," and for good reason. Traditionally used for preparing food, it has morphed into so much more. Many of us now eat our family meals in the kitchen, it serves as a favorite spot for homework and kids' art projects, and it's the place guests tend to gather when we host events.
Because we spend so much time in our kitchens, it's natural that we will eventually want to make updates and upgrades to better suit our needs and changing style preferences.
Luckily, a minor kitchen remodel is one of the best investments you can make in your home. According to Remodeling Magazine's annual Cost vs. Value Report, it has an average 80.5% return on investment.1
The key to making a kitchen remodel pay off is to keep it modest in scale. Spend too much on custom or high-end selections, and you are less likely to recoup your investment. Instead, make an effort to keep your existing layout if it works for you and your family. Paint or reface cabinets instead of replacing them. Update counter tops with low-maintenance quartz and swap out old light fixtures with modern alternatives. Replace outdated appliances with energy-efficient models. The average cost for a minor kitchen remodel is $22,500, and it's likely to recoup more than $18,000 at resale.1
Wood Deck Addition
A deck addition is a popular way to extend and enhance the use of your outdoor space. It's the perfect spot for grilling, dining alfresco, and entertaining. In fact, 81% of surveyed homeowners said they have a greater desire to be home since completing a deck addition.2
For a 16 x 20-foot wood deck, you can expect to spend around $13,000. Fortunately, the money you invest offers an average return of 76%.1
Decks made of composite material are a popular alternative these days, as they don't require the regular sanding and staining that wood decks need. However, at an average cost of $19,000 for a 16 x 20-foot composite deck, they are significantly more expensive. Plus, the expected return on investment is only 69%.1 Still, if you plan to hire someone to provide regular maintenance to a wood deck, then a composite deck may offer cost savings over time.
Siding Replacement
Everyone knows good curb appeal is important when selling your home. And while it may not be the most exciting way to spend your remodeling budget, new siding can make a big impression on buyers … and your selling price.
Your home's exterior is one of the first things buyers see when they view your home. It sets the tone for what they are going to see inside. It also gives an impression of how well the property has been maintained. Worn, peeling, or rotted siding can be a major red flag for buyers.
Replacing 1,250 square feet of siding costs around $16,000 and will net you an average of 76% at resale.1
For an even greater impact, consider replacing a portion of your siding with manufactured stone veneer. It can have a dramatic effect on the visual appeal of your home. A 300 square foot area will run you around $8,900, but you can expect to see a nearly 95% return when it comes time to sell.1

RENOVATIONS WITH WEAK RETURNS
These three popular remodeling projects are homeowner favorites. However, don't expect to see a high rate of return at resale. Instead, consider them an investment in your current quality of life. Just make sure you'll be living in the home long enough to make them worthwhile.
Major Kitchen Remodel
If there's one room the majority of homeowners dream about making over, it's their kitchen. From custom cabinetry to high-end appliances, the possibilities are endless. But those dreams can come at a cost.
An upscale kitchen remodel with high-end cabinetry and countertops, commercial-grade appliances, and designer features can cost upwards of $130,000. And unfortunately, you'll only get back around 60% at resale. Even a mid-range kitchen remodel that includes new semi-custom wood cabinets, laminate countertops, and energy-efficient appliances could run you around $66,000 and net you a mere 62% at resale.1
Of course, an outdated or non-functional kitchen could turn buyers off from your home completely … and keep you from enjoying it yourself! So if your kitchen needs a major remodel, you shouldn't necessarily scrap your plans. Just go in with the realization that you may only get back a fraction of what you invest. Then you can decide which upgrades are worth the splurge.
In-ground Pool
Few additions deliver more entertainment or enjoyment than an in-ground pool. It brings families and friends together, provides a break from the summer heat, and offers a fun and convenient way to stay fit. Plus, you'll be the envy of your neighbors! But before you dive into a pool addition, consider whether the benefits outweigh the (substantial) costs.
The average expense to install a standard 18 x 36-foot in-ground pool is $57,500. And the estimated return at resale is only or 43%.2 In addition to the installation cost, plan to spend money each year on maintenance, repairs, and additional insurance.
However, 92% of surveyed homeowners said they "have a greater desire to be home" since installing a pool, and 83% have "an increased sense of enjoyment when they are at home." For you and your family, the perks of a pool may be priceless.2
Master Suite Addition
If you own a house built before the 1980s, there's a good chance it lacks a master suite, which is a feature that has become commonplace in most newly constructed homes.3
Master bedrooms have evolved from a simple place to sleep into a homeowner's retreat—often featuring a sitting area, his-and-hers walk-in closets, and an attached bathroom with double vanities, a soaking tub, and a walk-in shower.
And master suite additions have become increasingly popular—both in homes that lack one as well as those with aging owners who can no longer accommodate stairs to an upper-level bedroom.
But what's the typical return at resale? Unfortunately, a master suite addition offers one of the lowest returns of any remodeling project. With a median cost of $125,000, most sellers will only recoup around 52% of their investment. Nevertheless, in a survey of homeowners, the majority were satisfied with their decision to add a master suite, giving it a "Joy Score" of 10 out of 10.4

WEIGHING COST VS. BENEFIT
It's always wise to enter into a remodeling project with knowledge of how it will impact your home's value. In most cases, upscale or highly-customized upgrades are less likely to offer a high rate of return. That said, home renovations that improve your quality of life and enhance your enjoyment may be worthwhile no matter the cost.
GET A CUSTOMIZED ANALYSIS OF YOUR PROJECT
We've been talking averages. But the truth is, the actual return you can expect on a home improvement project will vary depending on your particular home and neighborhood. If you have plans to remodel, call or send us the details. We'd be happy to conduct a free analysis to determine how the renovations will impact the value of your home!
Sources:
2019 Cost vs. Value Report –
https://www.remodeling.hw.net/cost-vs-value/2019/
NAR' Remodeling Impact Report – https://www.nar.realtor/sites/default/files/documents/2018-05-remodeling-impact-outdoor-features-05-23-2018.pdf
Zillow –
https://www.zillow.com/blog/evolution-of-the-master-bedroom-48286/
House Logic –
https://www.houselogic.com/by-room/bedroom-closet/master-suite-addition-return-investment/